🍞
Increased Conversion Rate and Performance Boost for a Premium Nutrition Manufacturer
Increased Conversion Rate and Performance Boost for a Premium Nutrition Manufacturer
72% increased conversion rate and 3 seconds faster load times on average just by moving from Magento to Crystallize. Not bad.
In 2018, MyRevolution, a Norwegian manufacturer of high-quality nutrition products, migrated its eCommerce platform from Magento to Crystallize. This decision was made based on a couple of reasons.
Firstly, optimizing frontend performance in Magento was a difficult task. Secondly, they aimed to create a customized eCommerce experience and checkout process that would better suit their customers' needs. Lastly, being a subscription-based business, they required a more efficient way to manage subscriptions while providing a seamless user experience.
The transition was completed in June 2018, and the results were noticeable immediately. The average load time decreased from 8.5 seconds to 5.5 seconds thanks to the quick retrieval of data required for the webshop from Crystallize.

As a result of faster loading times, simpler product presentation, and frictionless checkout, the average number of pages viewed per session increased twofold. The chart below demonstrates this.
Customers are now exploring more pages per session, from an average of 2.5 pages to six pages. Despite navigating more around, they are spending less time, as demonstrated by the graph.
Moreover, the conversion rate has significantly improved. The enhanced shop has a 72% better conversion rate than the previous average.

Frontend performance is crucial for a better user experience, and it leads to faster page loading times. Faster page loading times result in increased conversions as more customers stay around, find products, and complete the checkout process (as shown above). A side effect is that you get is better search engine page ranking.
MyRevolution relied on the Next.js + Vercel combo to prioritize performance. Having a fast API was critical in achieving a low-latency user experience.
MyRevolution's loyal customers often purchase the same products regularly. They can now choose from various subscription plans, such as monthly or every three months, based on their consumption needs.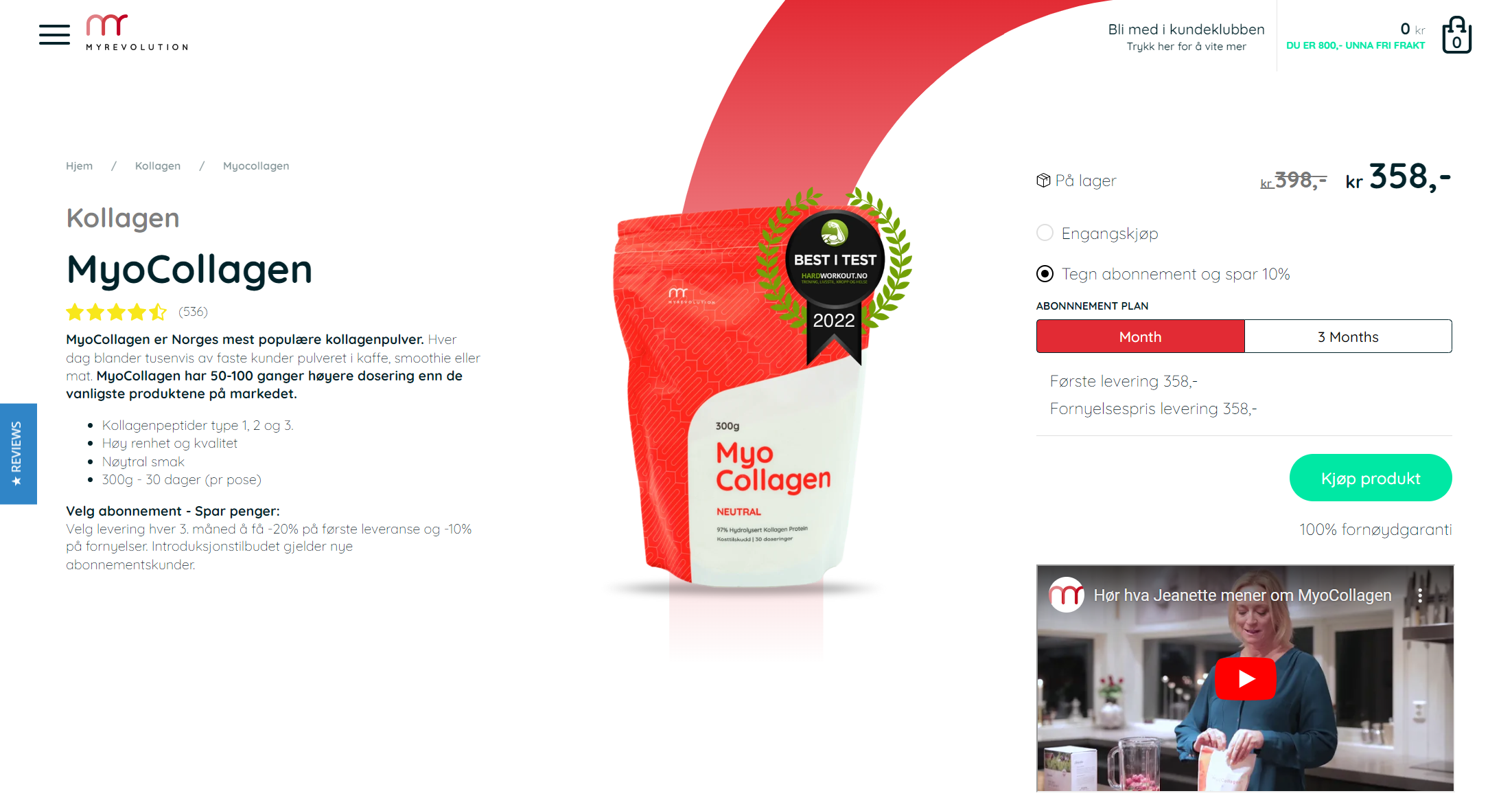 By introducing subscription-based plans for most of their products, the company aims to increase customer loyalty and sales. They strive to create a better shopping experience and are not interested in tricking customers into subscribing for longer than they want. For instance, if a customer is on vacation for a month, they can skip a shipment with ease.
Subscribing customers receive an email a few days before their subscription renewal. They are informed about the upcoming shipment and provided with direct options to ship the product immediately, stop this shipment or cancel their subscription.
MyRevolution's objective was to create a tailor-made, visually attractive, highly performant, and secure eCommerce storefront. The outcome is a complete subscription commerce solution that delivers a seamless user experience across all channels and screens.
Have a subscription business that requires cutting-edge dev tools?
Give Crystallize a try!
START building for FREE with Crystallize, or schedule a 1-on-1 demo so we can show you how Crystallize fits your use case.