Product Merchandising to PDF Catalogs with PIM
Turning your product information into PDF in seconds. Publish catalogs, datasheets, and price lists in a flash with a headless PIM system.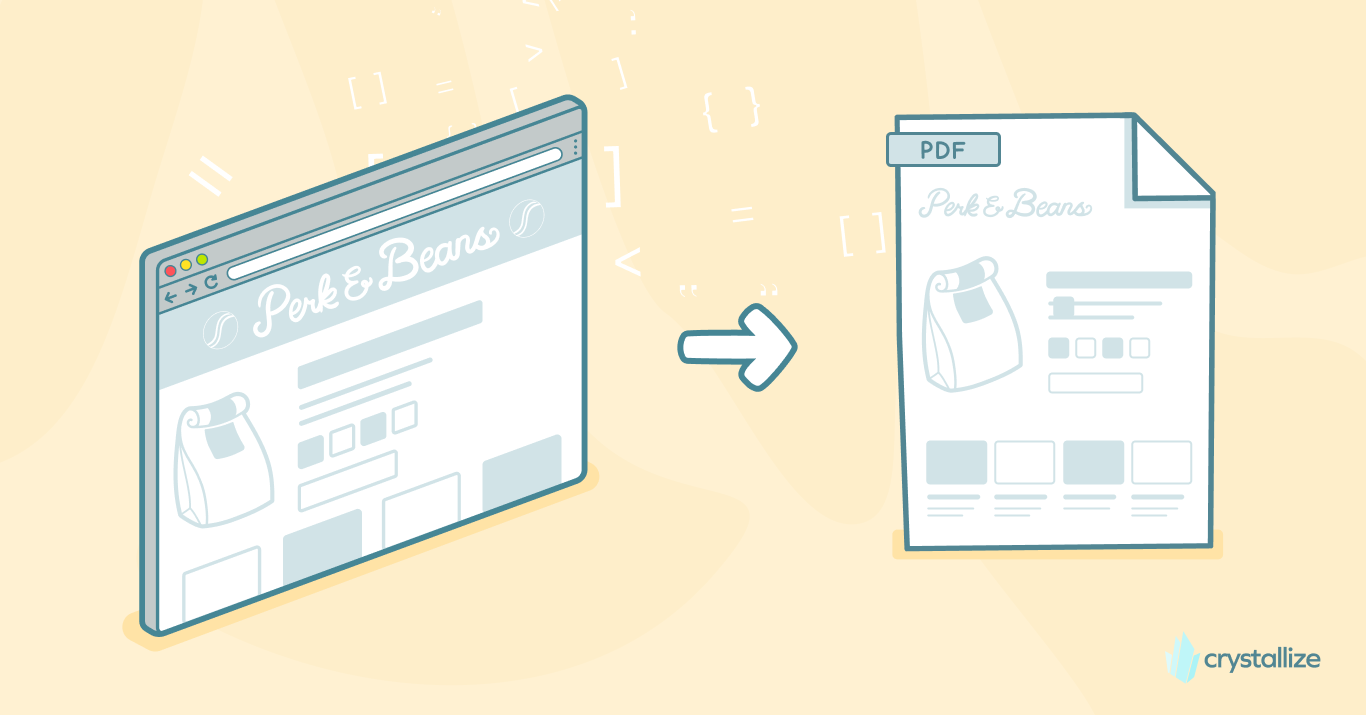 Spreadsheets are used extensively by the great majority of the businesses I've been talking with over the past few years about product information. Numerous spreadsheets with numerous stakeholders typically result in bad data quality and a lot of manual processes. Additionally, generating printable PDF product catalogs or just simple product cards is often done manually.
Let's see how using Crystallize as a headless PIM can significantly enhance this procedure.
Going From Multiple Spreadsheets to a Single Product Hub
Structuring your product information in a PIM system like Crystallize starts by modeling your product universe. The process of organizing the structure of your products is called content modeling.
Once you have defined your structure, you need to import and often clean up product information. This can be a combination of automatic import jobs and manual processes like using the nerdy view with magic paste to consolidate your product information in your PIM.
Once all product information is safely stored in your PIM, you benefit from:
One central repository for all product information
Efficient collaboration from a single source
Increase data quality with semantically defined product information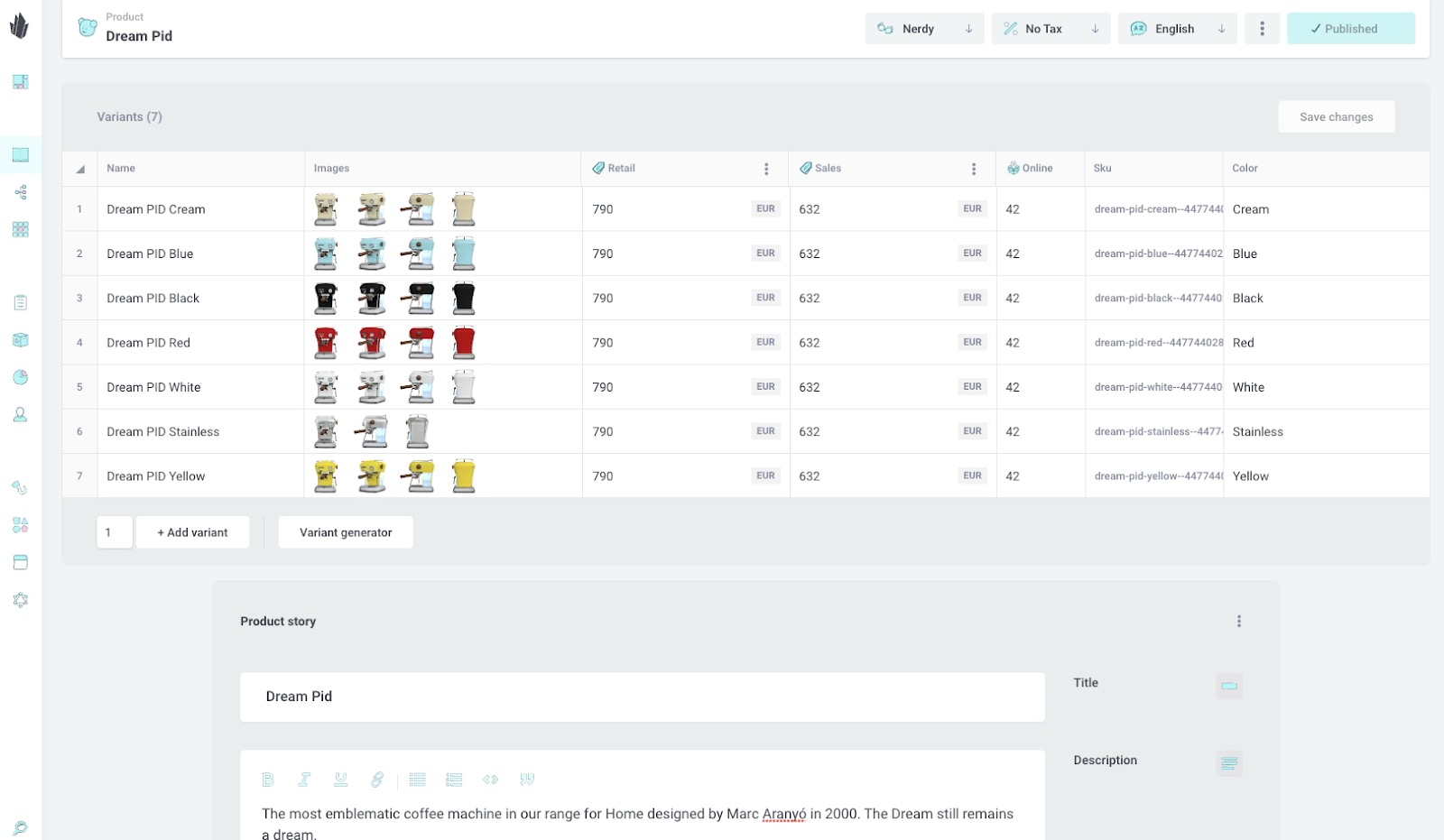 From Manual to Automatic PDF Catalog Merchandising
You might be familiar with large manual jobs in tools like Adobe Indesign or just PowerPoint to create printable product catalogs. These manual jobs increase the possibility of errors in product information and outdated values. The cost of generating these assets is also higher with a manual job vs. an automatic, always up-to-date process.
You probably also want to generate product catalogs with different prices and languages. At this point, it really starts to make sense to think about the automatic generation of product catalogs for print.
Crystallize comes with tools that allows you to automatically generate printable PDF catalogs with always up-to-date product information and pricing. This tooling includes a presentation that is completely editable, making it simple for your front-end developers to incorporate your branding into the design.
Automatic PDF product catalog generation gives you the benefits of:
Increased data quality in your product catalogs
Dynamically generate catalogs for different markets with correct prices
Save manual work on catalog creation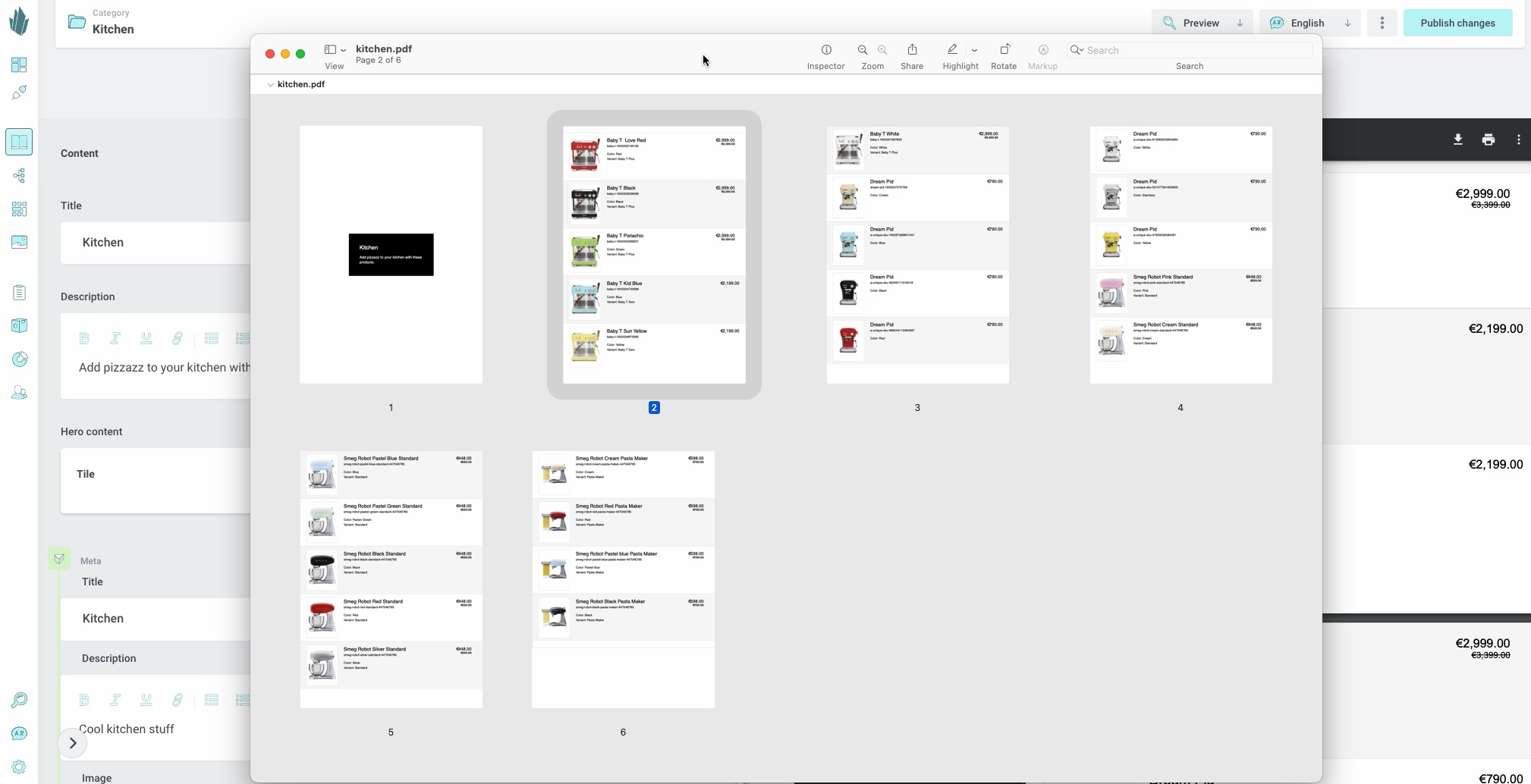 Printable PDF Product Card Merchandising
In addition to being able to generate a complete product catalog for different markets, you can also generate product cards that are ready for print or electronic distribution. Product highlights easily available to print out and display in retail stores.
The multichannel content delivery in Crystallize allows you to define any number of different output channels that are available at the push of a button. Bringing you always up-to-date product cards and consistent product information across the organization, subsidiaries, distributors, and retailers.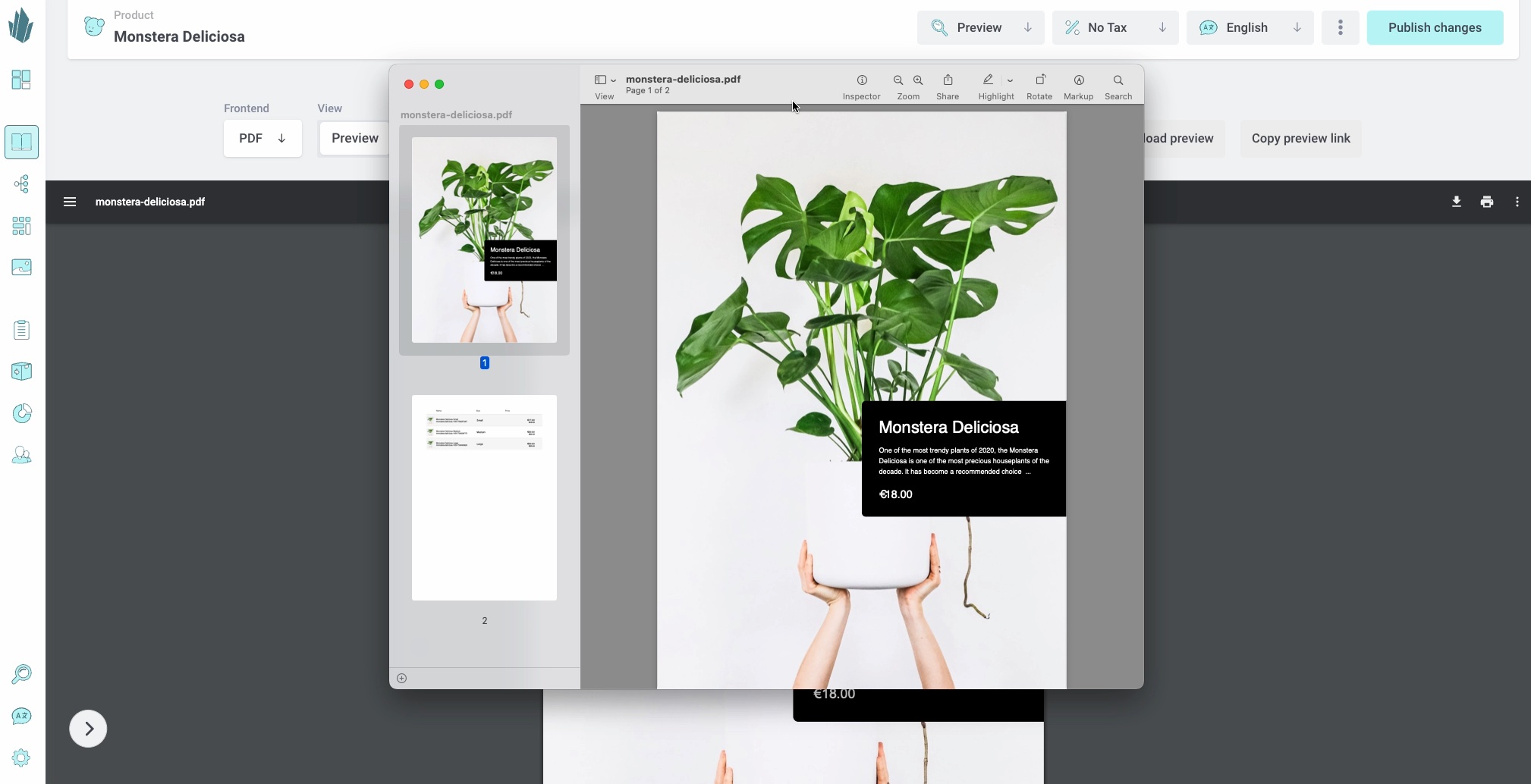 How to Publish Tailor Made (Your Design) Catalogs, Datasheets and Price Lists with Crystallize?
The examples above show how you can export your product catalog or product sheet to a PDF. The fast APIs in Crystallize enable you to easily re-purpose the product information in the channel of your choice.
Tools you can use to customize the layout of your PDF:
React PDF; neat as it allows frontend developers to customize the layout in a familiar framework (what we use in the examples above).
Figma; use a Figma plugin to directly access the GraphQL API in Crystallize. Nice for designers to quickly populate a design for PDF export.
Adobe InDesign; use the Crystallize export tools to generate XML files that can be injected into your InDesign files automatically to generate beautiful PDF catalogues.
Besides creating your own layout you can also customize the data that is being exported from Crystallize. Your use cases could include:
Complete product catalogues with current discounted products from price lists.
A subset of your product catalog.
One pages product cards.
B2B prices unique to the current identified customer.
A complete price book with all your SKUs and the prices for any markets.
We can help you kick off your eCommerce business in style.
BOOK a personalized 1-on-1 demo today, and we'll show you what makes Crystallize a powerful product story engine well suited for modern business.
Or, why not, SIGN UP for FREE and start building.