ECommerce SEO Checklist
This eCommerce SEO checklist gives you the most important factors for a better SERP ranking. Items include the page title, headers, URLs, link and video optimization through content strategy, front-end performance, and structured data formats.
And last but least make sure your webshop is secure with HTTPS to avoid SEO penalties. Also, see the updated SEO checklist for 2021.
SEO Basics also valid for eCommerce
The good old SEO basics are still very valid for eCommerce and cannot be repeated too often. SEO basics include:
Page titles
Headers
Friendly URLs
Meta description
Image optimization
Video optimization
Link optimization
Page Title and Header SEO Optimization
If you take away only one tip: make sure that your title tags and h1 tags are optimized for SEO. The title tag is what is being shown in the search results and is what is given the most weight. Make the title tag specific. Have your keywords at the beginning of the tag. Also, make sure to repeat the title tag text as the main header on your product page. In addition, you should repeat the main keywords throughout the product description text. Consider the 700c white tires from classic bicycles manufacturer Skiens Cykkelfabrik.

Friendly URLs also good for Ecommerce SEO
The URLs of your product pages should be in natural text and reflecting the main keywords of your product page. The URLs should match the title and header tags. Natural text URLs are good for ecommerce SEO but also for the usability of course.
Meta Description for Ecommerce SEO
Keep your meta descriptions up to date. This is the text that is shown under the page title in the search results. Keep it accurate and selling. This is both a factor for ecommerce SEO but also to make sure your customers click on your link when it appears in the search.
Image Optimization
A big chunk of the searches done by shoppers is via image search. You should of course use great photos. But for SEO you also need to make sure that you use a good filename and alt text as this is being used by Google when indexing photos. Consider the envelope leather backpack in the search below. A great photo and ranked number one in the image search.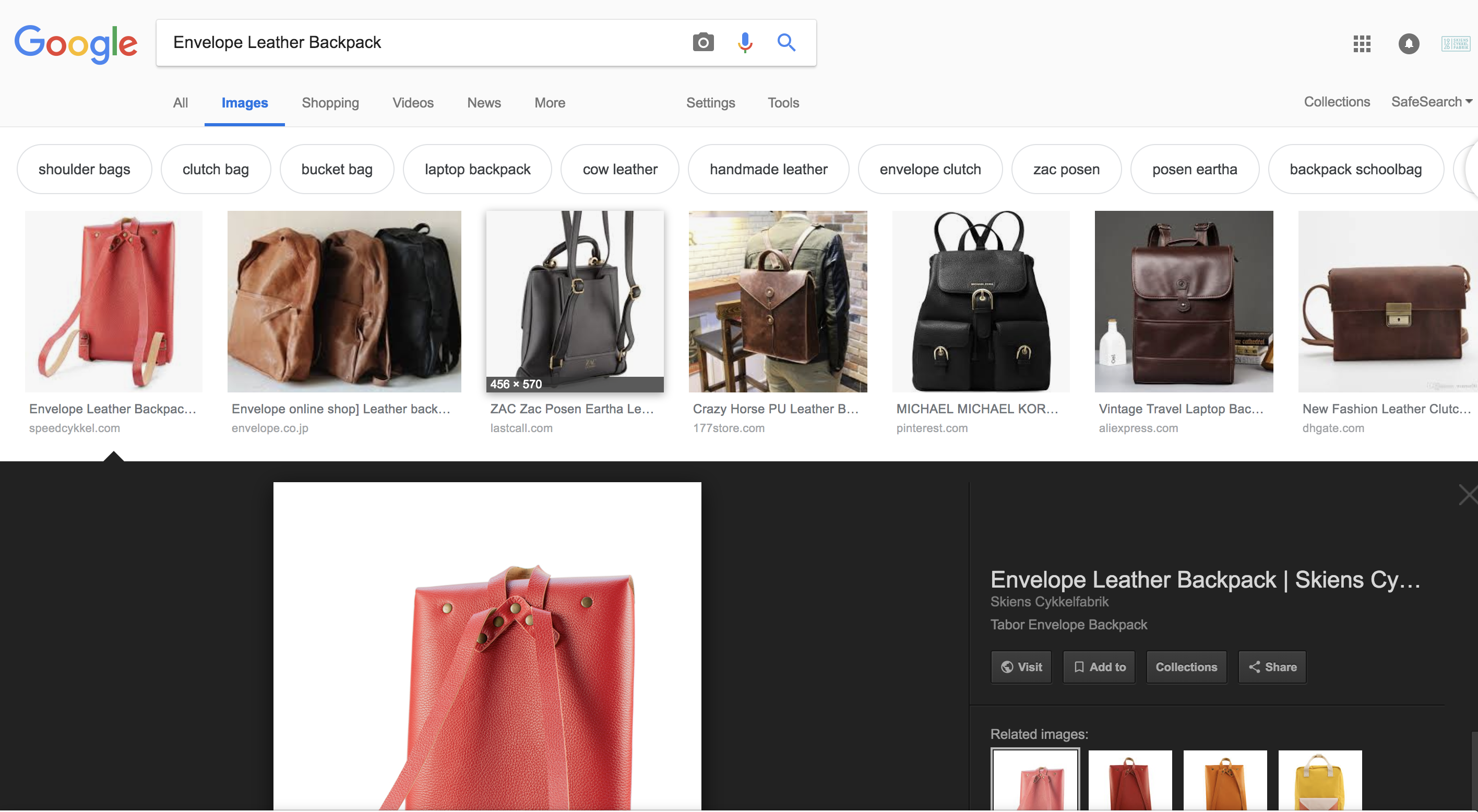 Optimize Videos
For videos, you need to make sure the filenames are containing the top keywords, same as with images. But more importantly, use structured data formats to properly index videos in Google. You should consider if you are using YouTube for videos or serving them natively. Do not have the same videos on both YouTube and your site natively as this will make them compete, and YouTube will most likely win.

Link Optimization for SEO
Hyperlinks are the foundation of the web. Make sure you use them well. There are two main aspects you should be aware of:
Inbound links build authority
Linked text optimizes keywords for the destination page
Make sure you are getting as many high-quality external links as possible. This builds page and domain authority and is ultimately giving you an edge over your competitors. But perhaps even more powerful is the text that is being linked. This gives semantic meaning to the link and is good for accessibility and usability. But it is also giving the destination page a boost for the linked keywords. Of course, the linked destination page should repeat the linked keywords. No cheating.
Reviews
Customers are being influenced by product reviews. If you have product reviews on your site make sure that you show them in the search results. If you add reviews to your structured data it will show nicely in Google and customers can make more informed decisions. Like this highly rated kollagen product from MyRevolution.

Content Marketing for Ecommerce SEO
When running an ecommerce shop today you also need to run a media company. You need to consistently produce engaging rich content for ecommerce. Content and commerce are merging and customers expect rich detailed information about your products.
To support your content marketing efforts you should establish a content calendar and commit to producing high-quality relevant content for your customers. Be strategic in your approach to topics and optimize your content for the most relevant keywords.
Mobile Friendly Product Pages
Structured Data & Micro formats
Use structured data for your different types of content. Products, videos, blog posts, or even job postings should use structured data. The web is getting more semantic as we are targeting more channels like voice and visual search. You can test your structured data with Google.
Structured data will show reviews, price, and stock information directly in the search results for products. This also boosts click rates as the customers are better informed already from the search result page.
ECommerce API Performance
When running a webshop you need to take performance seriously as it affects SEO. You need to ensure that your backend is not slowing you down. If you use a headless PIM for your eCommerce API make sure it is fast and scalable.
Canonical URLs
Make sure you only have one URL to your pages. Set up redirects from HTTP to HTTPS. Redirect www subdomains to the main URL. Also, make sure you have a canonical tag on your page in case you have multiple URLs to the same page. It is best practice and Google checks.
301 Redirects
Make sure you have permanent redirects of old URLs. Proper HTTP 301 header information should be sent. This will inform Google that the page has permanently moved and will update its index. Browsers are automatically redirected when they hit a HTTP 301 redirect header so customers will also find the new page automatically.
Use HTTPS
This is more of a housekeeping point, but do not forget to make your site secure with HTTPS. HTTPS is Faster than HTTP so it is good for user experience, but more importantly, for SEO Google is giving a penalty if you are not using HTTPS.