An Introduction to B2B eCommerce
B2B eCommerce is nowhere near as talked about as B2C eCommerce, which is strange considering that the B2B eCommerce market is over five times (5X) more valuable.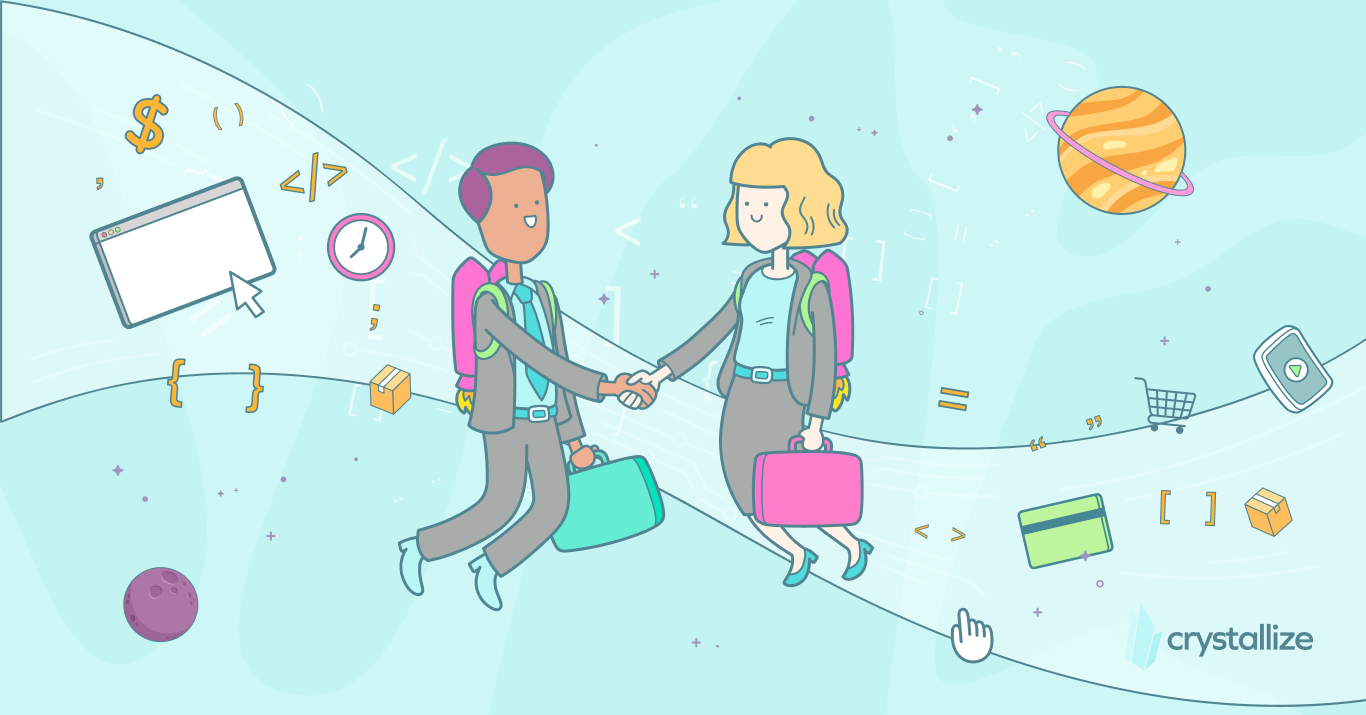 In fact, globally, the B2B market was valued at $14.9T in 2020 and is only predicted to grow.
With the pandemic as a catalyst, over 70% of millennials are now involved in the B2B buying process, and the fact that 75% of B2B customers buy online makes perfect sense that B2B eCommerce is estimated to account for 17% of all B2B sales in the US by 2023.
The good news is: that if your B2B business doesn't yet have an eCommerce store, it's not too late. It's the perfect time to dive into this market.
Let's go through all you need to know.
What Is and How B2B eCommerce Works?
B2B or business-to-business (vs. B2C, i.e., business-to-consumer) eCommerce entails the sales of products or services between two businesses digitally through an online platform.
Your products or services are usually listed on an eCommerce platform where B2B buyers can interact with them and purchase them by themselves. The orders are then processed digitally, and all this greatly helps you improve your service while reducing costs at the same time.
Most often, B2B eCommerce transactions happen between manufacturers, wholesalers, retailers, distributors, and other businesses and organizations who use your products regularly.
While the potential is huge, about 65% of B2B companies will use eCommerce in 2022, so there is plenty of market for your business to tap into. On top of that, keep in mind that 52% of B2B buyers report frustrations with the online buying experience, while 90% admit they would purchase from a competitor if your eCommerce portal couldn't answer their needs.
So, the demand is there. But where does your business fit?
B2B2C eCommerce
In this model, a B2B business gets to sell products to the end-consumer by partnering with another B2B or selling directly to the consumer, helping them increase their market.
To be categorized as the B2B2C model, the platform needs to cater to both business and end consumers at the same time.
To better illustrate, you can have:
a manufacturer selling their products to a B2B who then sells them directly to the end consumer, or
a manufacturer listing their products on a platform where both businesses and consumers can purchase them.
Supplier-oriented B2B eCommerce
Supplier-oriented B2B eCommerce will list a number of suppliers on the platform where B2B buyers can choose the one that best answers their demand. It's important to note that, in this case, the suppliers control the process, from the pricing to the experience.
As an example, say that your business needs new chairs. You could head to a supplier-oriented B2B eCommerce platform and choose between different suppliers, the one that best suits your needs, or even buys different chairs from different suppliers.
💡A different way of thinking.
Speaking of chairs, there are companies with a tad different approach, like NUWO, a home office as a service solution. Read more in our NUWO case study.
Buyer-oriented B2B eCommerce
Similar to the way in which governments employ private companies, in the buyer-oriented B2B model, the buyer lists the goods/services they need and invites other businesses to submit their offers. Then, the buyer gets to choose the one that best fits.
The buyer could own this eCommerce platform or simply list the project requirements on a third-party B2B eCommerce platform for a certain fee.
Wholesale B2B eCommerce
You're probably familiar with wholesale, the model where businesses digitally purchase various goods in bulk from wholesalers (usually manufacturers or distributors) at a lower price and then sell them to consumers at retail value.
"In bulk," "at a lower price," and "eCommerce platform" are the keywords in this model.
Intermediary-hosted B2B eCommerce
Also known as a horizontal marketplace, the intermediary-oriented B2B eCommerce model means that a third party owns the platform where they match B2B buyers and sellers.
That usually means certain guidelines imposed by the third party and fees to list goods or calls-for-goods charged by the third party. Think Amazon Business or Alibaba.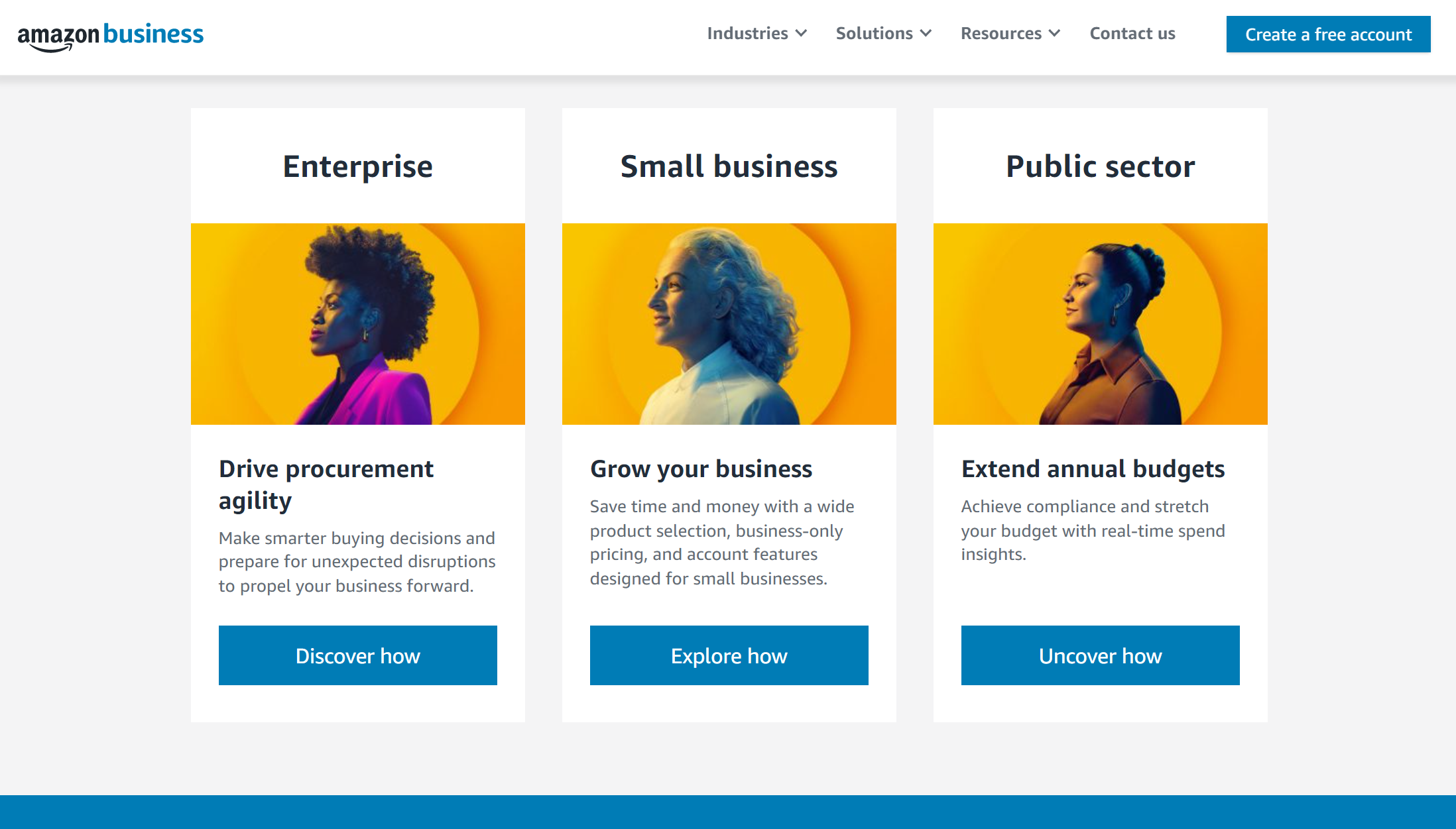 B2B eCommerce platforms
After the shift to online selling, businesses seem to finally be shifting away from excel sheets, emails, and other "traditional" means of digital sales to eCommerce platforms.
You may be wondering why? if the legacy system you're already using work fine?
Because it's so much more effective and productive, and you'll never even think of returning once you head down that path.
An eCommerce platform becomes your one-stop-shop, your main hub where you can easily manage and scale all your selling operations, whichever of the above-mentioned B2B eCommerce models you may have adopted.
At the same time, this platform is your virtual storefront where your customers get to research, browse through, and purchase your products or services, while the back-end helps you automate and handle your sales processes such as managing customer data, processing payments, and analyzing data for better sales optimizations including various promotions and personalized user experiences.
Best of all, today, there's a plethora of eCommerce platforms to choose from, perfect for B2B.
Say you are familiar with WordPress and wanna stick with it. There is WooCommerce, an open-source eCommerce plugin for WordPress websites.
Then there is Shopify, one of the most popular eCommerce platforms for B2B and B2C business models, thanks to its list of features, integrations, and support that could serve just about any business. Or BigCommerce or Magento.
And then there are solutions like Crystallize, a new breed of eCommerce solutions that rely on a headless architecture and APIs to allow for composable commerce. Whether you're a small business or an enterprise with a high sales volume, our long list of customization options, flexible APIs, and various integrations are sure to meet your eCommerce needs.
B2B eCommerce Best Practices
To start with, make sure you research and adopt B2C eCommerce tips. This means that you should make sure you hire professional graphic designers, provide professional images and videos of your products and testimonials from previous customers, employ UX boosters such as a great search engine and mobile-first product listings, and enable automation for personalized offers (based on previous purchases for example), provide users with real-time product and stock availability at crazy speeds, etc.
This may be a given, but you have to always further improve your user experience. Your storefront should be as intuitive as possible and fast as possible if you're an intermediary or if your clients aren't very familiar with digital B2B eCommerce websites.
Offer better onsite search functionality and rely on personalization.
On a similar note, try to maximize the flexibility of your pricing model. Provide customizable but automated and instantly available prices based on the quantity that your customers can opt for on their own. Moreover, provide various payment options, specifically for B2B payments, including domestic and international payments such as digital invoicing and bank transfers.
Finally, provide content for self-education. Host a company blog where you'll publish education pieces with vital information your customers usually ask about. Give them a chance to find what they need. And while it may feel like you have to be formal for B2B, don't be afraid to use simple, everyday language. After all, other humans will be buying from your business.
💡Consider.
The adoption of the subscription business model is on the rise. Most likely, candidates are B2C and B2B businesses.
From classic magazine monthly subscriptions over consumer goods (like Dollar Shave Club, coffee, etc., even the car industry is making moves in the subscription direction) to SaaS B2B businesses (think Slack, Calendy, Crystallize, etc.).
Is the subscription model for your business? And at that, what type of subscriptions? Read the linked post 👆
Moving Forward
Even though there are a lot of misconceptions surrounding the industry, there is a clear shift toward B2B eCommerce. A couple of reasons for that, really. Reduced infrastructure and overhead costs and better management of suppliers and customers for one. And an opportunity to sell more to existing customers and build better partner relationships with both suppliers and clients for two.
Running a B2B business!? Now might be the best time to think about adopting B2B ecommerce.
We can help with that. Schedule a 1-on-1 demo so we can show you how😎