Page Experience
User experience (UX) matters a lot to Google. With that in mind, they design a set of quality signals named page experience signals with the purpose of measuring how users perceive the experience of interacting with a web page beyond its pure information value, both on mobile and desktop devices.
According to Google, the following signals are essential for delivering a good page experience: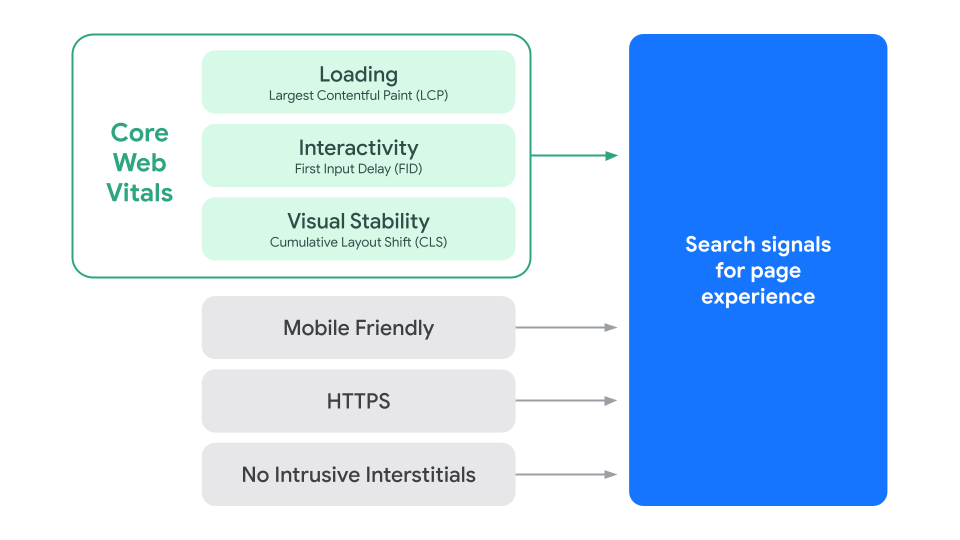 Core Web Vitals. A subset of Web Vital metrics that aim to provide you with measurable proxies for Real User Experience/Metrics (RUM). The metrics chosen by Google as Core focus on the aspects of loading (LCP), interactivity (FID), and visual stability (CLS). PageSpeed Insights and GTmetrix are excellent tools for measuring CWV, among many others.
Mobile-friendliness. Use Google's Mobile-Friendly Test or check your Google Search Console under Enhancements > Mobile Usability if your website/pages are mobile-friendly.
Safe-browsing. To check if there are any safe-browsing issues, use Google Search Console under Security & Manual Actions.
HTTPS. Ensure the website/pages are served over HTTPS, as it helps prevent anyone from tampering with the communication between the website and the user's browser. Security comes first.
Intrusive Interstitials. It is not about not using them but rather about using them responsibly.
Page experience signals are all about giving a share of voice to user experience in search algorithms. Still, Google announced that Google Search always seeks to show the most relevant content, even if the page experience is sub-par. This basically means that content-related signals will always outweigh page experience signals.
The value is more on the user engagement and business metrics side of things but also on the secondary signal that involves the use of your website that add up to the Experience, Expertise, Authoritativeness, and Trustworthiness (E-E-A-T) signals.