Structured Marketing and Informational Content with Documents
With documents, Crystallize allows you to combine content and products in any configuration you choose. Once you've created one or more document shapes within your tenant, you're ready to create documents for your catalogue based off of those shapes.
Read more about documents to get a feel for how you might use them. Whenever you're ready to make some of your own, you'll find the process is quite similar to folder creation.
Creating a New Document
Within the Crystallize App, click the Catalogue button on the left side of the screen. From here, click either the Document button in the center of the screen or the Create+ button at the bottom.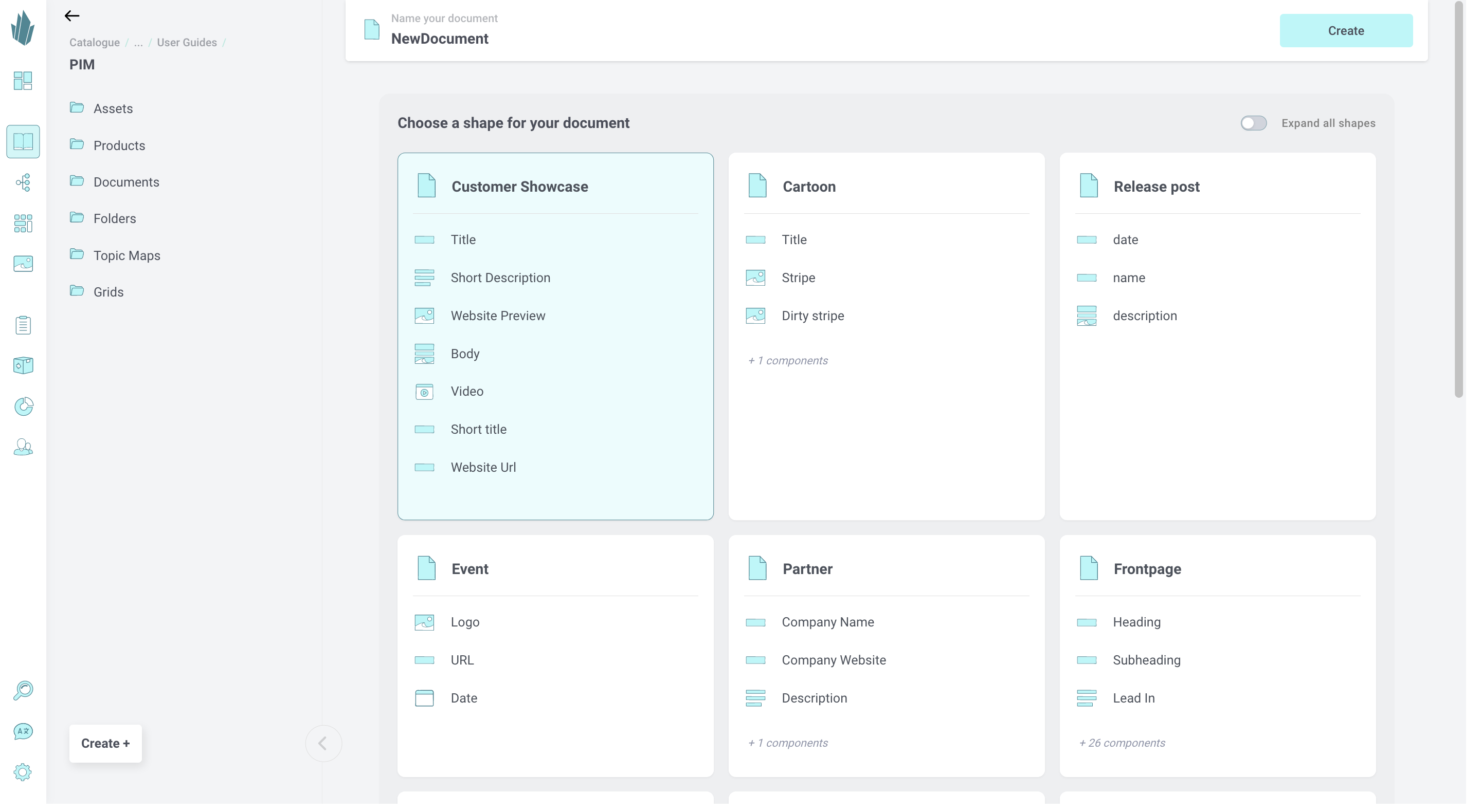 Here, you'll see all of the document shapes that have been defined within your tenant. Click on a shape to see all of its components, or use the Expand all shapes toggle to view all components for every shape.
Click on a shape to select it, type in a name for your document at the top of the screen, then hit Enter or click Create.
Adding and Editing Document Content
Adding content to a document is simply a matter of populating its components. These components come from your document shape and may contain placeholders for text, images, videos, properties tables, related items, and more. Hover your mouse over each component's name to see the description that was specified for it (if any). Refer to our documentation on components if you need information about any specific component.
As you enter or edit information, all changes are automatically saved, but they won't be made publicly available until you click the Publish or Publish changes button at the top of the screen.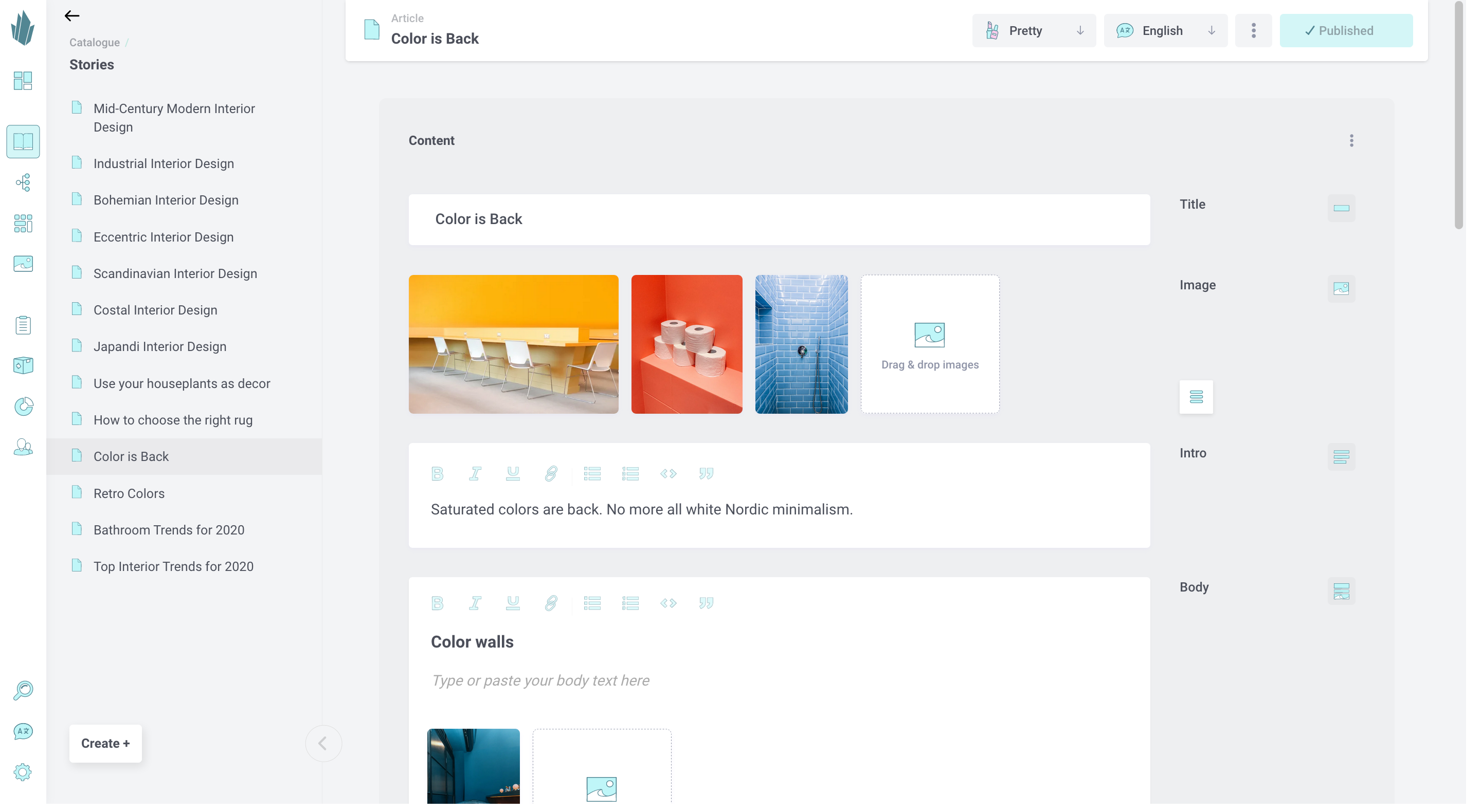 Frontend Previews
If you have one or more frontend previews set up for your tenant, you can have a look at what your documents will look like within these environments before changes are published. From the View drop-down menu at the top of the screen, choose Preview. Refer to our frontend preview documentation for more info.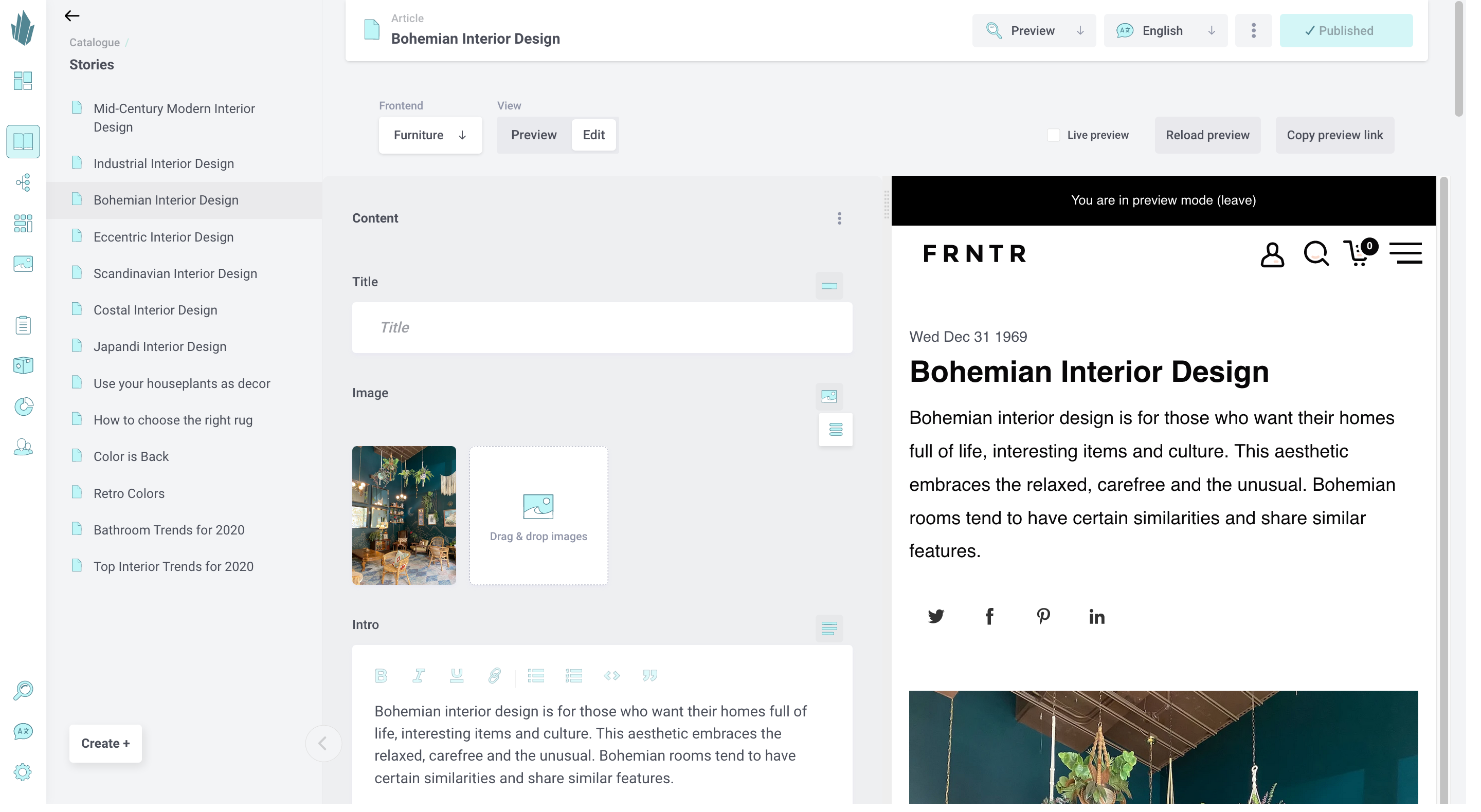 Documents in Multiple Languages
If you've defined multiple languages within your tenant, there will be a translation of your document for each of these languages. You can switch between different translations using the Language drop-down at the top of the screen. Refer to our Configuring Languages page for more information.
Deleting Documents From the Catalogue
To delete a document, click the (...) button at the top of the screen and choose Delete. Once a document is deleted, it's gone for good, so proceed carefully.